What We Believe is What We Think, Do & Share
Services are imprinted with Maria's signature program elements of what she calls, The True Leadership Compass: Spirit of the Forward Path. Her soul's mission is to serve as a bridge between Mind and Heart in Leadership, between Material and Spirit, Confidence and Influence (masculine and feminine structures), corporate, organizational world and Spirit of Service. In this way, she offers a beacon to guide towards one's deepest truths of Vitality, Well-being, Passions & Longings, Core/Zone of Genius & Gifts from within, so that we lead through clarity of relationships that serve, tap into high engagement, aligned productivity and exceptional results for what matters most - in all aspects of life.

We believe in a healthy humankind and smarter than smart companies (organizations) and exceptional professionals know that Love originates from within - once tapped into, it becomes a strategic advantage for their business, and for resonating out to others. A truly great organization is born when a group of people come to work together for a meaningful cause that also serves their ongoing love for a concept, idea, themselves, one another, serving beyond profit, making a true difference, authentically. Organizations come to life when each person feels whole and inspired, when people working together can healthily relate, feel safe to connect, influence, impact and achieve more than one person working alone.
At a universal level, the most important foundational relationship we will ever have is our relationship with Self. Following that, next is our relationships with one another. When we can start from this understanding, when we nurture it, cultivate it, integrate it, we can then realize the basic truth that prospering and thriving in any aspect of life, is really all about healthy relationships, starting with Self. In addition to technical skills and competencies (yes, important), personal attributes, the right mindset, "heart", actions, and spirit of service are the foundations by which authentic success can come to life in a healthy, sustainable way, and yes, particularly for a business that wants to grow, thrive, and keep up with competitive edge and challenges. It's not always a clear path to balance this for leaders, for individuals. We're here to help!
Maria R. Nebres is the founder of MPCS Inc., and for close to three decades, has been providing consulting, authenticity coaching and delivery services specializing in the integration of: healing modalities, human relations for authentic success and personal transformation; HR-Business partnership; employee relations; policies and programs development; employee engagement; performance and transition management and talent sourcing/management. Throughout her years supporting her clients, she has managed to hone in on what she believes is key to personal and professional success: authenticity and self-management through personal mastery.
Blending HR expertise with personal development and mastery, Maria targets to help, at a deep level, create better mind-heart centered systems, relationships and supporting resources, for a better workplace and life in the spirit of service, from the inside-out. How? By leveraging personal mastery and authentic success transformation expertise, and bringing back the 'human' and spirit of service into the picture, which includes focusing on and incorporating a unique inside-out approach that can complement and integrate with practices in human resources, operational, business strategies and decision making. We believe that our focus is the solution path to the missing piece of the puzzle for sustainable high engagement, productivity, accountability and authentic success that realizes sustainable results. Engaged employees are essential for a successful business, and this is a successful business' greatest asset. Investing in providing the right space, environment, tools makes smart business sense. And when we refer to an organization's "people", really we mean every human being in the organization, regardless of role, and functional level.
Our signature FACTOR OF approach is the guiding template we draw on. It is unique and iterative in nature, incorporating key guiding phases (each supported by essential concepts, steps, processes, and tools that integrate with and reinforce each phase) to support one's personal success/mindset transformation journey for high engagement for exceptional results potential. It can be integrated with life management strategies, with human resources and business processes to enhance mind- heart centered practices, wellness and engagement frameworks in line with mobilizing an energized, authentic approach for performance and engagement objectives in the spirit of true service and success.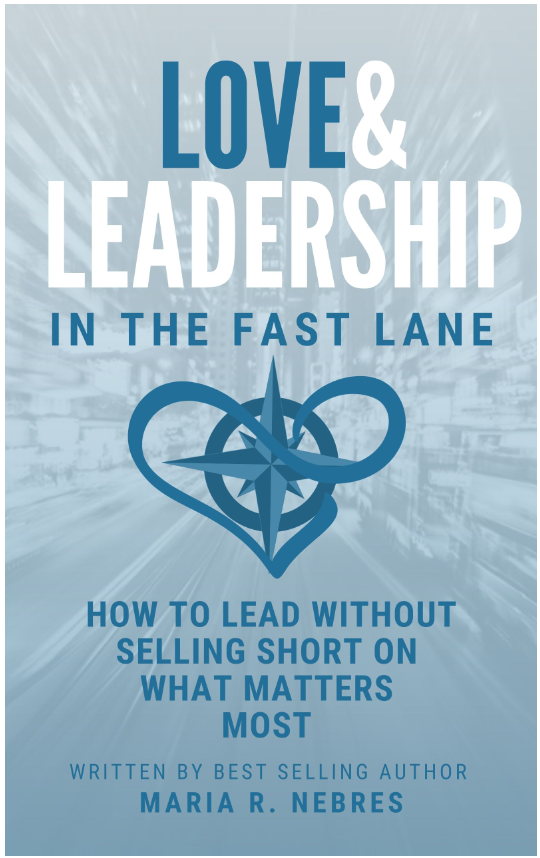 Love & Leadership in The Fast Lane
What it takes to keep authentic, and influential in what matters most to thrive.
How to win back balance and time without loosing out on relationships that matter, high performance, financial and career success.
And so much more!
What Readers are Saying About Maria's Book
Lisa Lawrence
Human Resources Leader, Consultant-Coach, College Instructor-Human Resources Management
A must read, full of thought-provoking little gems scattered throughout causing one to stop, read again and experience "ah-ha" moments that truly touch the soul, challenge the status quo and allow us to search inward for the truth within ourselves.
It's raw, relatable and challenges us to pay attention to our inner voice, rethink what we've been taught to accept as the "norm" challenge these imposed beliefs, allowing the authentic-self to emerge.
This little gem is for enlightened leaders and seekers of personal truths. It reminds us that it's "okay" to feel like there is more to life that what we know in this moment. That the longing we feel from deep within, is our divine self, nudging us to step back and know that it is okay to want more from our relationship with self and others and that taking the time to find your own personal authenticity will lead you to find the joy and fulfillment we are all seeking.
Real, raw, truth seeking- words you don't always associate with leadership-in truth, this book demonstrates that true and authentic meaningful leadership can only be achieved when it comes from the desire to lead with love. It takes us on a journey of self-reflection, showing us that when we trust from within, when we listen to the divine voice within each of us, we have the power to change not only ourselves but the lives and relationships we share with others.
Charlotte Thompson
Registered Social Worker, Psychotherapist
This book is a MUST read, more than once – it is that good! Personal development and transformation are fundamental self-practices for me in my own profession as a registered Social Worker and Psychotherapist. I've been doing "inner work" for years to care for my own capabilities in critical thinking, relationship management, self-insight, care and growth to effectively serve my clients in the years, helping them navigate their life issues. I have a deep understanding and hold value for wellness strategies from energy healing to wholistic medicine and neuroscience to keeping abreast of cognitive and evidence-based theories and best practices.
I understand the concepts covered in this book but what is brilliant about it is that this book takes complex, sophisticated concepts and distills them into practical, relatable language and experiential stories, that has the profound ability to captivate readers in all walks of life to serve deep healing value. I've read and re-read this book a number of times, and each time, the book engages me. It's as though the book directly speaks to the reader and understands where they're at, deeply. As a Metis woman, and actively engaged in anti-oppressive training for the work I do, I see a book like this hitting home on the true source for many systemic issues of barriers in society affecting humanity and our world. This book is a whole "Aha" – that we need to tear down our own inner barriers first. It really is about relationship with self (self-leadership), before we can truly help others and our world.
Michael Parkinson
Vice President – Consulting, Optimum Talent Inc.
I have known Maria for close to thirty years through our leadership and professional time together in the financial services and healthcare sectors and the friendship that grew between us over the same time period. I have personally observed Maria develop a reputation as a well-respected professional who has the rare ability to deeply connect with leaders, colleagues and team members she supports. This book is truly allegorical as it contains so much of the deep value she brought into the professional space where all too often we see both leaders and employees struggling through the day-to-day pressures and demands – Maria's coaching model identified solutions to these issues. She provides compelling insight and practical approaches to address the multiple challenges involved with engagement and sustainability – creating optimal results and overall wellness. Through her FACTOR OF "pillars", inspiring quotes and the inside-out view of true leadership, Maria provides that 'recipe for success'. She reveals her own story of lessons and integrates these into the book's principle message. A 'must read' for truth seekers both in business and in life looking for "better", where healthy engaged relationships matter - because that truly is what matters most.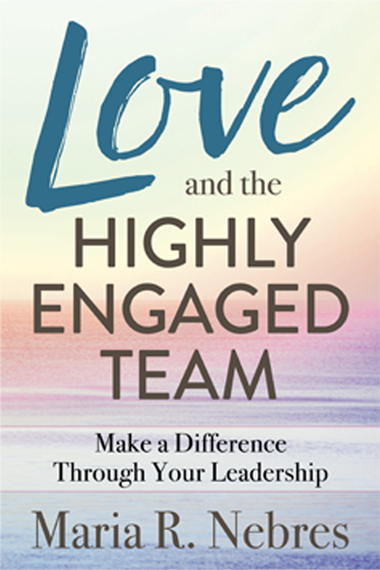 Love and the Highly Engaged Team
The truth about lasting success and what it takes to achieve it
Why most leaders fail when it comes to leading tired, disengaged employees
Two key mindsets and how the right one can help turn problems into solutions that produce commitment and top results
The truth about time and how to use it to make it your all
An inside-out leadership approach to boosting energy, talent, and engagement
A framework with key steps to achieve lasting balance, productivity, and results
What Readers are Saying About Maria's Book
Erika Flint
5.0 out of 5 stars - A Must Read on Leadership!
February 20, 2019
Format: Kindle Edition
"In a working world where it's so easy to get lost with "doing" for the sake of external results, the book Love and the Highly Engaged Team offers a refreshing outlook to leading from within. The guiding framework provided is a clear and easy-to-follow approach that I cannot wait
Karen Koszo
5.0 out of 5 stars - A must read for not only leaders, but everyone!
March 12, 2019
Format: Kindle Edition
"Kudos to Maria Nebres! Her honest book provides a thought-provoking approach to authentically revitalizing engagement in the workplace. This is a great starting point for personal leadership in a time when pressures are at an all time high in both business and personal life. Maria brilliantly
Amazon Customer
5.0 out of 5 stars - Maria's concept of "life by deliberate design"
March 10, 2019
Format: Kindle Edition Verified Purchase
"Love and the Highly Engaged Team is a refreshing guide to help you through your world of time crunches and chaos! Yes, there are others out there who are going through the exact same thing you are….everyday! This book helps you to recognize and get past issues that you
What Jack Canfield Says About Maria
Dynamic entrepreneur & seasoned human resources practitioner, specializing in realization of potential, talent sourcing, employee relations, teaming, and authentic success coaching for high engagement.
Served clients across the general public sector, healthcare, financial services, pharmaceutical, translation services, high tech, R&D, and management consulting, to name a few.
Maria collaborates with her clients and guides on approaches and success principles designed to RAISE IMPACT and engagement through improving personal, team, organization growth and aligned success achievement.
Maria has a passion for helping others to live a life by deliberate design rather than by default.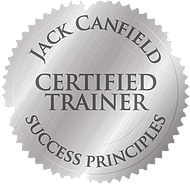 Maria R. Nebres
Jack Canfield, Chairman, Canfield Training Group
Are you worried about how you will lead your tired, disengaged team?
Do you doubt your own ability to successfully lead your team because you feel overwhelmed?
Author and human resources practitioner Maria R. Nebres brings over twenty-five years of personal & professional experiences, gained insights, and problem solving with time-tested measures to offer an integrative framework to answer your leadership questions and address dilemmas.
Wait no longer to achieve your leadership breakthrough and seize the possibility that you can lead during trying times, both personally and professionally.
Signature Speech: "Love is the Solution"
Quickly achieve high engagement, aligned productivity and exceptional results everyone can be moved by, can contribute to and be proud of.
Love is the drive that that makes everything possible, because you're doing something that truly matters to you and others - now that's engagement!
Maria Nebres speaking at the Expert Speakers Conference